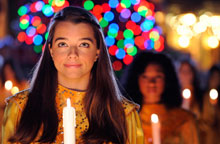 Holidays Around The World
Celebrate the holiday season with the characters, legends and lore from around the globe. Delight in wondrous tales and customs while experiencing the traditions of Walt Disney World® Resort. The signature events include a breathtaking Candlelight Processional and a special holiday-themed finale to the dazzling IllumiNations: Reflections of Earth.
Event Dates: Fall 2013
Event Tickets: Admission to Epcot® required.
Entertainment Highlights (subject to change without notice):
Ongoing Holiday celebrations throughout the World Showcase featuring festive food, fun and entertainment from a variety of exciting cultures worldwide include:
Candlelight Processional: One of the most beloved holiday traditions at Epcot is the Candlelight Processional – a joyous retelling of the Christmas story by a celebrity narrator accompanied by a 50-piece orchestra and a glorious mass choir.
World Showcase, America Gardens Theatre – Show times take place 3 times during each day of the event at 5:00 p.m., 6:45 p.m. and 8:15 p.m., except on December 8, 2013, when show times take place at 6:45 p.m. and 8:15 p.m. only.
2013 Dates
    Narrator
Nov. 29 – Dec. 1
Dec. 2 – Dec. 3
Dec. 4 – Dec. 5
Dec. 6 – Dec. 7
Dec. 8 – Dec. 10
Dec. 11 – Dec. 13
Dec. 14 – Dec. 16
Dec. 17 – Dec. 19
Dec. 20 – Dec. 22
Dec. 23 – Dec. 25
Dec. 26 – Dec. 28
Dec. 29 – Dec. 30
    Gary Sinise
To be determined
New ! Ashley Judd
Whoopi Goldberg
New! Sigourney Weaver
New! Dennis Haysbert
James Denton
Edward James Olmos
Trace Adkins
To be determined
Blair Underwood
Amy Grant
Celebrity narrators, dates and other entertainment are subject to change without notice.
JOYFUL! A Gospel Celebration of the Season: Joyful! uniquely blends the soulful expressiveness of Gospel and Inspirational music with the sounds of Jazz, R&B and urban music. The music will touch, uplift and inspire you!
Future World Fountain Stage – Daily: 1:15 p.m., 2:15 p.m., 3:15 p.m., 4:15 p.m.
IllumiNations: Reflections of Earth: A spectacular light and sound show every night at 9:30 p.m. at the World Showcase Lagoon featuring a very special holiday finale, which includes the classic song "Let There Be Peace On Earth" and the voice of Walter Cronkite offering a special holiday message.
Holiday Storytellers: Listen to legendary holiday folklore from around the world as told at the World Showcase by the legends themselves, including France's Père Noël, Italy's LaBefana and America's Santa Claus.
Epcot Holiday Merchandise: Stroll through the World Showcase and discover festive holiday gifts for the entire family! Visit Santa's Village in America Adventure or stop by France for a delicious gourmet treat. You may even catch a glass blower in Germany putting the finishing touches on a seasonal ornament!
Candlelight Dining Packages: Savor an extra special treat when you ring in the holiday season with a Candlelight Dining Package. Each package includes lunch or dinner at a select Epcot restaurant and reserved general seating at the America Gardens Theater during the Candlelight Processional.
*Candlelight Dining Packages do not include Park admission.