Whenever most people think about going to Disney World they usually imagine going to one of the four main parks Magic Kingdom, Epcot, Hollywood Studios, or Animal Kingdom. However, I would like to talk a little about one of my other favorite parks at Walt Disney World. I'm talking about Disney's water park, Typhoon Lagoon. Orlando can be a super hot place during the middle of summer. With all of the heat and crowds going full swing at the big four parks, a trip to one of the coolest water parks around may just be what your family vacation needs!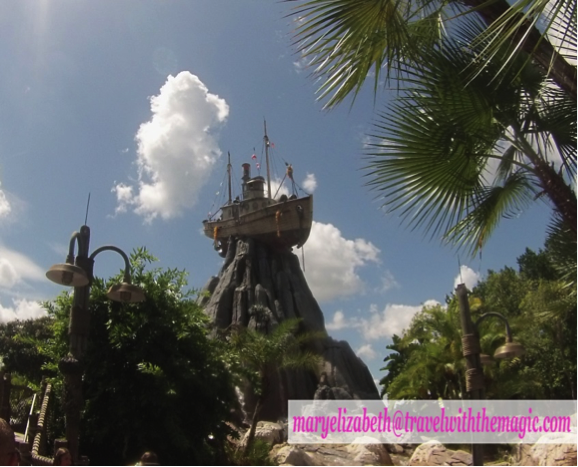 As most of you already know Disney makes the best theme parks in the world. They're not just parks, they're experiences! And Disney water parks are no exception. The story behind Typhoon Lagoon is that a huge typhoon came across this pristine island and everything got strewn around. You'll find surfboards, boats, and pretty much anything island related all over the park. The tropical landscape of Typhoon Lagoon makes you feel like you have been whisked away to an island!
Typhoon Lagoon has something for everyone in your family!
For your little ones, Ketchakiddee Creek is a great water area for them to splash around, ride down a slide just their size, or build a sand castle! For the Grandparents or parent that needs a nap from the long days put in at the other parks, there are shaded areas where they can snooze the afternoon away! Now for the rest of the family there is so much to do, from the lazy river, to slides, wave pool and many more water attractions. The lazy river, Castaway Creek, is 2,000 feet of relaxation. Let's talk about some of the slides! The Storm Slides are my family's favorite. These are 3 body slides that twist and turn with no major drops, but are still a lot of fun! For the dare devils in your family there are the Humunga Kowabunga slides! Wow! These will make your stomach come up your throat!! These slides drop you down about 5 floors going super fast! Another favorite is the family raft ride, Gang Plank Falls. It will twist you and turn you and take you through water falls! It is great for the whole family!
The wave pool at Typhoon Lagoon is like no other!! It makes one huge wave and it is no joke! That one wave then makes smaller waves that carry all the way to the entrance of the pool. My family could spend hours just in the wave pool. It is so different than any other wave pool we have ever seen.
I haven't even covered the snorkeling with sharks and stingrays or all the other slides in Typhoon Lagoon! Needless to say, there is enough to do at Typhoon Lagoon all day for everyone in your family or group. Don't miss out on all the fun in the sun and water! It is worth every penny to add the Water Park Fun Option to your Disney package!
My name is Mary Elizabeth Merrill and I am a Vacation Planner affiliated with Travel with the Magic. My services are FREE to those who book their travel through me! I am happy to help plan your itinerary, including booking your dining and FastPass+ reservations, and make special event arrangements. I would love to help plan your magical vacation and make your family's dreams come true!