One of the most fun parts of a family vacation is creating collectibles of all the fun to remember after you return home. Photos are an easy souvenir and a wonderful way to relive all the fun your family had.
Visitors to Disney Parks may be familiar with Disney's PhotoPass system, the system which allows guests to view photos taken by Disney photographers. You can view these photos online or at kiosks while at the park, and for additional pricing, you can take them home with you. Aulani, a Disney Resort and Spa, also uses this service.
How it works:
When you arrive at Aulani and start exploring the beautiful grounds, you may see PhotoPass photographers strategically stationed in areas with incredible views. Simply approach the photographer and ask to have your picture taken and they will hand you a PhotoPass card to use for the duration of your stay. There is a special code on the back for you to view your photos online and you can also view them on your television at the resort. Our favorite place to view our pictures, however, was the PhotoPass kiosk at Kalepa's Store.
In addition to the photographers located all over the resort, you will also find them on the beach and in the pools. The photographers in the water are equipped with waterproof GoPro cameras which create beautiful prints both over and UNDER the water! They will not scan your card, but you get your pictures by simply visiting the kiosk later that day, telling the staff the approximate time your picture was taken and what pool you were in. The Cast Member will help you find your photos and they can be added to your card right away!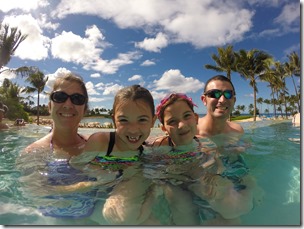 Another fun bonus with the PhotoPass system at Aulani is that the photographers frequently visit Aunty's Beach House, the children's activity center. If your children participate in any of the premium activities such as "Fish are Friends" or "Chip and Dale's Surf's Up," be sure to visit the kiosk. We were able to get some adorable candids of our children enjoying their time in Aunty's. There are also photographers at some of the complimentary activities at Aunty's (like Eruption Disruption or the hula lessons). My children loved visiting the kiosk each evening with us to pick their pictures from their time at Aunty's. They were able to relive every laugh and experience that happened while scrolling through the pictures.
The feature we loved the most was a feature we didn't discover until halfway through our stay. There is a "scavenger hunt" of sorts involving the PhotoPass photographers. If you have your photo taken at specific locations throughout Aulani, and you purchase a full priced PhotoPass CD (a great deal at $99), you are eligible for a free print. The size of the print depends on how many photo locations you take pictures at (there are a total of 8). My husband made this his personal mission to make sure we had photos taken at all 8 locations. Our prize? One of the best pictures I have of my 2 daughters together.
When your stay is nearing its end and you are ready to purchase photos or the CD, the Cast Members at Kalepa's can help you out. (You can also edit the photos and add borders if you claim your photos online). We chose to purchase the CD directly from Kalepa's and they were able to help us with edits and borders on the photo we chose for our free 8×10 from the scavenger hunt, but the rest of the pictures were unedited. They created the CD for us and we were able to view our photos as soon as we got home rather than claiming the PhotoPass cards and ordering a CD or downloading them like at the Disney parks. The CD also included some stock photos that made for wonderful screensavers when we returned home!
Photographs are my favorite souvenirs from our trips. I create photobooks, photo calendars, gifts for family members, a fun screensaver or background on my computer or phone – there are limitless possibilities as to what you can do with photographs. Having images of my entire family in front of the breath-taking backdrop that Aulani creates is something that is priceless to me. The photographers interacted with my children so well that the laughs and smiles are genuine (and it shows). Some came up with clever poses and took some adorable photos that I wouldn't have thought to take. All of the photographers we encountered were very friendly, took their time and I could tell truly took pride in their work. I feel this shows in our PhotoPass pictures from this trip.
Want to make some memories for your own family? Contact me today to plan your Aulani vacation! Email me at Amy@TravelWithTheMagic.com or you can find me on Facebook. You can also call me at 1-800-670-4312, ext 129 or request a quote. I can't wait to plan your MAGICAL vacation!