Everyone has heard (or even experienced) how wonderful a Disney cruise is. It has something to offer everyone: families, singles, couples, grandparents – every age group, every vacation style. There is something magical about a Disney cruise. But with all of those people on board how do you find any quiet time? There's always the spas and adult dining locations where you can take advantage of relaxation but what about just finding a place to do nothing but enjoy some down time? Not to worry – here is a list of little slivers of peace and quiet found all over the ship. This is by no means a complete list, just some of my favorite spots, and while my list is specific to the Disney Dream you can find these places on each of the four Disney cruise ships.
Adult Only Areas
Reserved for guests 18 and older in the forward part of the ship you'll find the Quiet Cove Pool. While this is a lot of fun it's still not the quietest pool on board. This can be found up one level (Deck 13) and about as forward as you can get – Satellite Falls. This small plunge pool is surrounded by chaise lounges galore and even shaded areas. Relaxing music is playing and the views are incredible. Cocktails are available.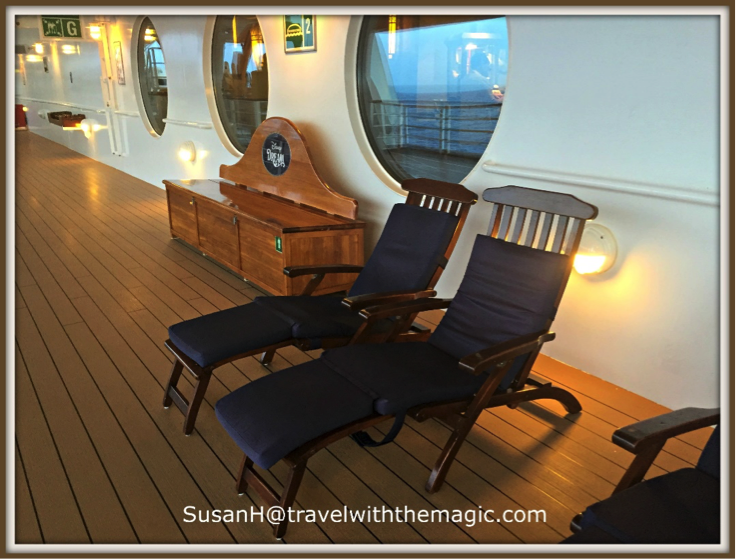 Deck 4
While you might see an occasional jogger or shuffleboard player out here we've found this deck to be nice and quiet, especially in the evenings. We enjoy finding the lounge chairs here at night after a show and just listening to the sound of the ocean as the ship glides along. Early mornings are also a treat – grab a cup of coffee and come watch the sun rise.
Portholes
Large portholes with seats are a great spot to take in the view or catch up on a good book. You'll find these scattered around the public areas of the ship – some are tucked away in corners making for a nice break from the crowds.
Verandah Cabins
If you've booked a verandah cabin one of the best places to be is in your own cabin. I highly recommend verandah cabins for just that reason – the extra square footage along with fresh air is worth its weight in gold. Room service is included in your Disney cruise so order some coffee, juice and sweet rolls to start your day and enjoy them on your verandah. Or end the day with a drink and dessert. However you use it you'll find R&R available to you 24/7.
Nooks
This picture was taken during a completely full cruise. There were over 5,000 of us on board. But you'd never know it from the little seating nooks you can find on Decks 2, 3 and 4. The Vista Café on Deck 4 is always a good choice for a comfortable sofa with a view.
My name is Susan Heidenrich and I'm a Destination Specialist with Travel with the Magic. My complimentary services include booking and planning trips to all Disney Destinations including Disney cruises. You can contact me at SusanH@travelwiththemagic.com or follow along on my facebook page here for more Disney fun!